"La vieille bourse" of Lille
The Old Stock Exchange of Lille is undoubtedly one of the most prestigious monuments of the capital of Flanders. Its construction was completed in 1653, by the master mason, Julien Destrée. This one was called "escrignier", manufacturer of boxes and small furniture. He therefore created a real jewelry box to house the transactions of merchants.
The old stock exchange is located between the Grand'Place and the Place du Théâtre (or Place de l'Opéra), it bears witness to the economic activity of Lille during the Grand Siècle.
The building is in fact a nest of 24 identical residences containing an inner courtyard, where booksellers, florists, chess players and tourists meet.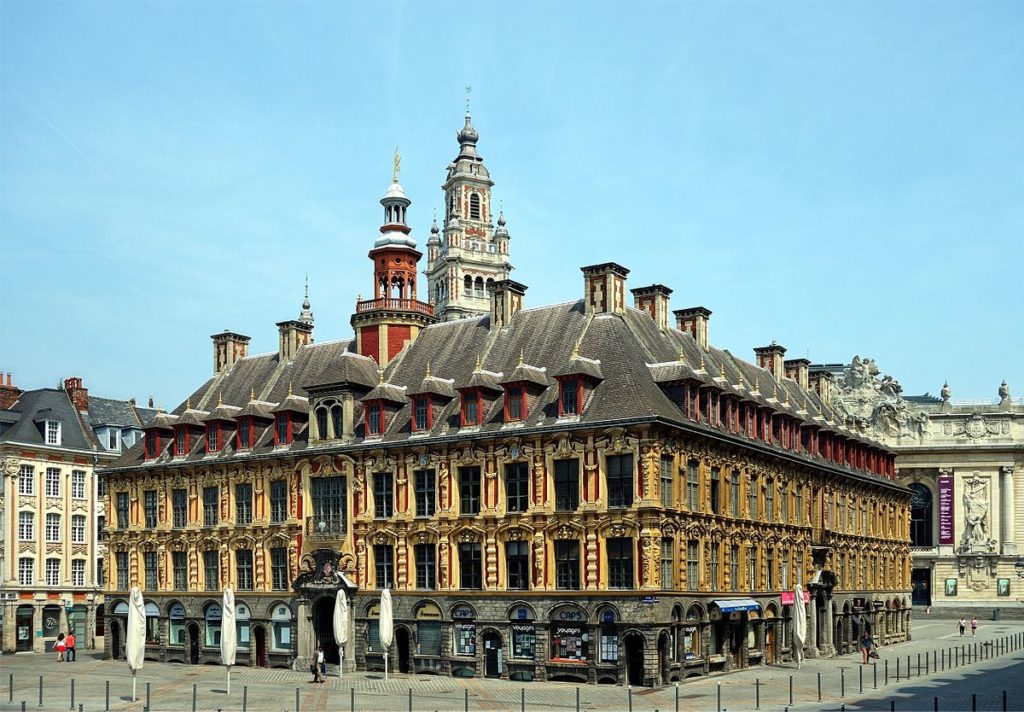 Above a ground floor forming a basement, two floors of abundantly decorated pilasters rise.
The decorative repertoire, of a certain opulence, tells the story of the wealth and fortune of the Lille inhabitants: wrapped Turks evoke the counters of the East, Pomones loaded with fruit ensure solid gains, horns of abundance promise happiness.
The lion of Flanders reminds us that Lille, at that time, belonged to the Spanish Netherlands.
This old stock exchange was built on the personal funds of the merchants.
Until now, its 24 houses, classified as historic monuments, had remained in private hands. But the whole thing had suffered from time. An exemplary restoration has restored it to its former glory, thanks to an original sponsorship: large regional companies have joined forces to financially support the operation, as a tribute to the merchants of yesteryear. In exchange, each company was granted the right to affix its coloured logo above the windows on the second floor. These are the coats of arms of today.